2016, September 13 - 16:12
Students, faculty and staff members can also use the Erasmus+, and the Campus Mundi scholarship programmes to travel abroad.
Several mobility opportunities will be open in the 2016/17 academic year to those studying or working at the University of Debrecen. In the framework of the Erasmus+ programme, students can choose from 340 higher education institutions of 27 different countries, where they can spend 3 to 6 months working toward an academic purpose in the spring semester. The target countries offer a monthly stipend of 400-500 euros, with an additional need-based scholarship of 100 euros also available. The deadline for applications is 20 October 2016.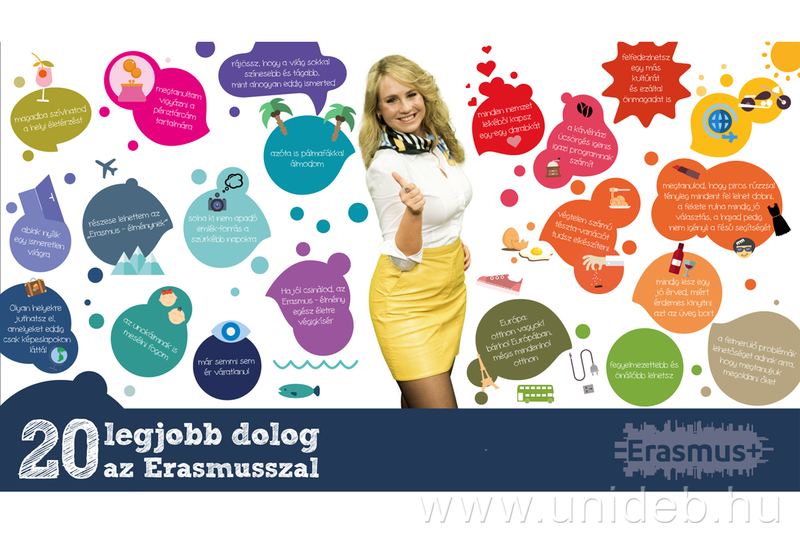 "Traineeships that can be completed in the framework of the Erasmus+ programme are increasingly popular. Students can spend between 2 and 12 months abroad, working at businesses, NGOs or non-profit organisations. Many companies also provide a financial contribution or other benefits to supplement the stipend of 500-600 euros. Another major advantage of the Erasmus+ traineeship is that it can also be completed in the year after graduation," Péter Gara, Erasmus coordinator of the Unversity of Debrecen pointed out.
Not only students, but faculty members can also apply in the framework of the Erasmus+ programme, to teach at least 8 hours at the partner institutions. A new feature in this academic year is that countries participating in the International Credit Mobility Programme, such as Israel, the USA, Russia and Moldova can also be selected as destinations. Applications to these places must be submitted by 30 September.
"Non-teaching staff members of the university may also apply to go to partner institutions with a training objective. An increasing number of colleagues choose to attend 'staff weeks' where those working in similar fields can exchange their experiences, and many companies also organise short training programmes specifically aimed at those working in higher education institutions. This option is also available again, with 30 September as the application deadline," added Orsolya Jánosy, head of the International Office of the University of Debrecen.
Campus Mundi, the excellence programme of Erasmus+, also provides traineeship and study abroad opportunities from 1 January 2017. Students of the University of Debrecen can use Campus Mundi to travel to almost thirty countries in Europe and an additional ten on other continents. The list of the partner institutions can be found on the website of the International Office, as well as at mobi.unideb.hu. The deadline for the application is 20 September 2016 for the 3-to-5-month study abroad programmes and 20 October 2016 for the traineeships.
Further information and the calls for applications can also be found on the website of the International Office of the University of Debrecen.
The Multimedia Competence Centre of the University of Debrecen has produced short videos documenting the experiences of several students who had participated in the Erasmus programme, which can be reached at the following links:
Ketrin Németh (United States of America) - Borderless expereriences No. 3
Marcell Szűcs (Spain) - Borderless expereriences No. 5
László Mózsik (the Netherlands) - Borderless expereriences No. 6
Press Office